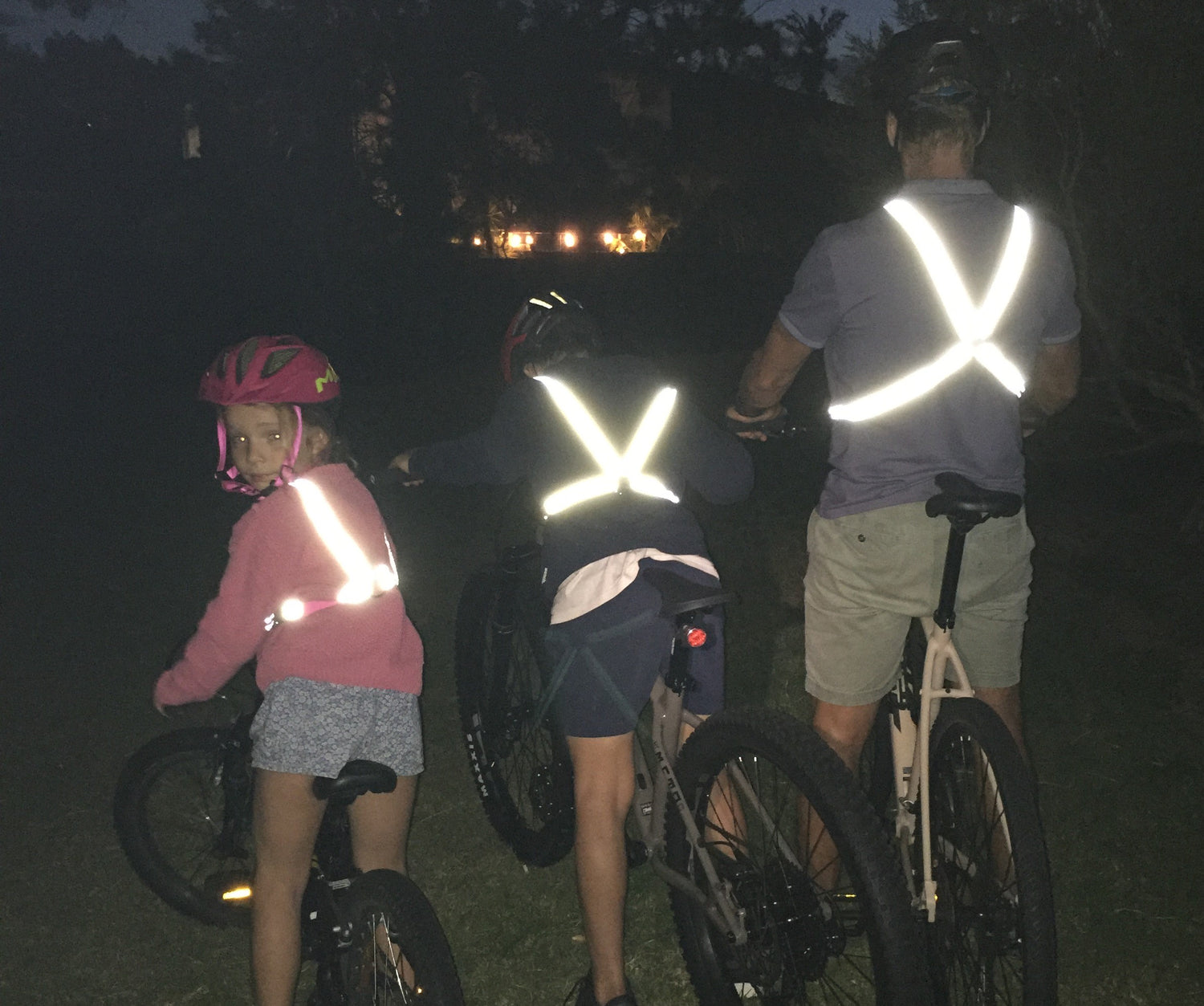 Light up the night
Lightweight, versatile and effective, the Monkeysee reflective harness will help keep your loved ones safe.
Shop now
Let customers speak for us
Monkeysee Harness
Our Australian-owned and operated online store sells the best, high-quality, stylish hi-vis and reflective accessories for cyclists, runners, dog walkers, and anyone who likes to exercise at night.
At Monkeysee our vision is to encourage more everyday people to choose a bike, a scooter, or micro-mobility transport option rather than a car for their daily commute. We want more people to feel comfortable and safe when riding, and by offering stylish, easy-to-wear reflective clothing and accessories we want riders to feel and look good.
The Monkeysee reflective cycling harness was designed in Australia to suit all kinds of cyclists, from the serious lycra warriors to the weekend punters, the daily commuters, and the cargo bike families. Available in a range of colours and sizes to suit every style, it is adjustable to accommodate winter and summer wardrobes.  Lightweight at only 52 grams it will not add bulk or heat - perfect for hot climates and those conscious of bike and accessory weight.
The harness is comfortable without impeding the regular movement of the arms due to its unique design also making it suitable for runner who train at night. The high-brilliance reflective stripes offer superb visibility in low-light conditions.
Our Audax Harness meets Audax cycling event guidelines with its thick single-stripe reflective element and is worn by riders in several of the world's premiere self-supported global cycling events including All Points North, Trans Oz, TransCanada, and the Trans Pyrenees. It will be an essential accessory for anyone competing in the Alpine Classic event in Bright, Victoria.

Also available in double-stripe and polka-dot styles and non-fluoro colours, the Monkeysee harness is also suitable for casual commuters, scooter riders and motorcyclists who want to add reflective detail without compromising the style of their outfit!
We have worked with the same manufacturer for over 10 years ensuring superb quality and durability, and hope that you enjoy your next ride in a Monkeysee Harness.
Reflective Accessories
At Monkeysee we are passionate about encouraging more people to choose a bike as a sustainable, cost-effective and greener form of transport. Improving rider-safety is paramount to new riders feeling comfortable riding on the road.
The Monkeysee range of stylish hi-viz accessories includes the popular waterproof backpack cover, cycling gloves, spoke reflectors, bags, and reflective straps for your body, your bag, or your bike.
Keep your gear dry with a waterproof cover designed for small to medium backpacks and bags on your daily commute. The fluoro yellow and fluoro pink designs ensure you will stay bright and be seen during the day, whilst the reflective detail ensures visibility at night.

Available online and in bikes shops across Sydney, Melbourne and the UK such as Glow Worm Electric Bikes, St Kilda Cycles and A Different Gear.
Reflective straps for ankles, arms and bags are a simple and effective way to improve visibility and safety without the need to invest in complex or expensive gear. Velcro and elasticated ankle straps can also be worn around the arm, a bag handle or even the bike frame whereas the larger luggage straps are adjustable making them suited to be wrapped around a bag, pannier or pack.
Bags with reflective detail are ideal when riding at night, and the waterproof backpack with removeable internal laptop pouch is an ideal bag for the commuter or traveler who wants to combine waterproof protection with visibility and comfort.
Night-time riders also need to consider how they are seen from side-on, so adding spoke reflectors are a simple and low-cost way to improve visibility for motorists.
Stylish and versatile, Monkeysee reflective accessories are a must for all bike owners.
Reflective Clothing
Reflective clothing for cyclists doesn't have to be boring, and it doesn't always have to be fluoro yellow (but it can be). The new Rainbow Reflective Jacket from Monkeysee proves that point. Designed with the all-weather cyclist in mind, this jacket is water resistant, wind resistant and has a gorgeous rainbow shine that makes it stand out from the crowd.
If rainbow isn't for you, then perhaps reflective silver will do the trick! This jacket is made entirely of reflective fabric, also making it wind and waterproof. For the more discerning riders, there are black options as well, each with reflective detail front and back.
Many riders do love fluoro so the prink or yellow visbility vests are ideal for casual commuters and weekend riders who love to pedal from A to B in warmer weather. As the sun goes down, the reflective dot detail of the fabric lights up under passing lights. The vest also comes in stylish black also with the reflective elements combining subtlety with visibility.
Kids absolutely love the Monkey-vest, a fun way to teach kids about wearing bright and reflective clothing when out on their bike, or perhaps when hitching a ride in a cargo bike with mum or dad. The team at Lug+Carrie offers the perfect solutions for family transport, and the Monkeysee range will complement perfectly.
LED Lights
At Monkeysee we want everyone to shine bright and be safer on the roads. With a selection of bike lights, personal lights and dog collars we aim to keep everyone, including your furry friends visible at night.
LED slap bands are a fantastic accessory for riders and runners, including kids. They also double as a great accessory for festivals, concerts, clubs and parties. Rechargeable, the LED bands are available in a range of fashionable colours, and the slap-design means one size fits most. If you are competing in the Elite Energy Shimano Husky Triathlon Festival Night Run this is the accessory for you!
Taking the dog for a walk early morning or late at night is the norm for many pet-owners. The off-leash dog park is great fun for the pooch but can be stressful for the owner when they are so hard to see. Not to mention treacherous for other walkers, dog owners, cyclists and runners also out at that time of day! By adding an LED collar to your fur-baby, you can rest assured they will be visible, keeping them safe too.

The Monkeysee LED waistbelt is ideal for the late-night walker, runner or rider exercising in dark, unlit streets with little passing traffic. The rechargeable LED section of the elasticated belt has blinking, and steady-state light options so is not reliant on car headlights or streetlamps for reflection. Popular among riders in overnight cycle events such as the Newcastle Overnight this is a great accessory for those concerned with nighttime visibility.